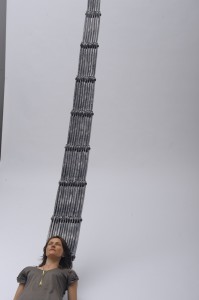 As a jewelry designer I have been making what are essentially wearable sculptures for over 20 years now, so designing and building on a larger scale is a very natural progression for me. It always felt inevitable that I would be making full scale sculpture.
Working on such a large scale I am able to explore, with an entirely new perspective, movement- which has been amazing and fascinating for me. It is often one of my goals to have mobility in a piece- an element of engagement that encourages the viewer to physically interact with the sculpture. Not that one necessarily has to, but I love that there is that possibility and that it doesn't necessarily have to be a passive experience. Even if you are not touching it I definitely strive that the work feel "alive" in some way, which is why I especially love outdoor installations. I make the work thinking about how it will move in the wind and how it will weather in the elements.
For my most recent sculptures I combine the processes of casting and forging to create the shapes and finishes that I want. The original models were forged because I wanted to capture the beautiful textures that the heating and hammering of metal creates. I choose bronze as my main material because of it's warm color and also because it stands up so well outside- allowing the sculptures to be installed inside or outside.
Biography
Jill Platner was born in 1969 in Norwell, Massachusetts and received her BFA from Parsons School of Design, N.Y. Since 1993 her jewelry designs have been sold at Barneys New York, Twist, Portland, Oregon and other retailers worldwide. In 1998, Jill opened up her store on Crosby Street, NYC – where she continues to fabricate and showcase her jewelry and large scale sculptures.
Jill Platner lives and works in New York City.